Congratulations on the company's recognition of "Double High"
---
Recently, Chongqing Huafeng Dijiete Printing Materials Co., Ltd., a wholly-owned subsidiary of the company, received the 2018 "High-tech Enterprise" certification issued by Chongqing Science and Technology Bureau, Chongqing Municipal Finance Bureau and Chongqing Municipal Taxation Bureau. The high-tech enterprise identification is a comprehensive evaluation and identification of the company's core independent intellectual property rights, the transformation of scientific and technological achievements, the organization and management level of research and development, growth indicators and talent structure. Our company can finally obtain the certification, indicating that the company has received strong support and recognition from the state in innovation and R&D. At the same time, it has actively promoted the company's independent innovation and independent research and development.
At the same time, the company's products high-performance positive image CTP version and CTCP version have passed the 2018 "high-tech products" certification in Chongqing, the high-tech product certification, indicating that the company's research and development strength in recent years, the independent development of product formation The property rights achievements are remarkable, the maturity of product production technology has reached the domestic advanced level, and the market prospects of the products and the economic benefits of the enterprises are in good condition.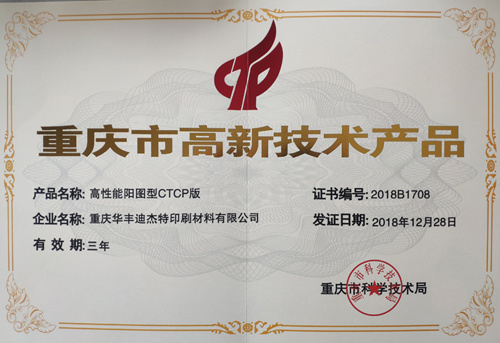 It is the authority of our company to be recognized by the company. The selection of this project is another full affirmation of Chongqing Science and Technology Bureau to our company. It also shows that our company has strong scientific research strength and advanced level. After winning this honor, our company will further cultivate technological innovation capability and further increase Great scientific research investment, give play to technological advantages and cost advantages, and make greater contributions to China's high-tech research and development cause!